Every year, IISc organizes its annual Alumni Reunion during the second week of December. As part of the program, the Department organizes a reception to welcome back its alumni in its premises. This department-level interaction provides our students a unique opportunity to interact with the alumni and gain from their valuable experience in life and profession. As part of the agenda, the Department makes a presentation on its latest activities on teaching, research, industry interaction and outreach. In addition, there are quizzes, social interactions and discussions in which the alumni actively participate. Specifically, an open discussion is held on how the alumni and the department faculty can collaborate on translational R&D, that may involve students as well. Panel discussions are also held on topics relevant to the department and mechanical engineering profession in general.
Inputs from the alumni are collated and have used by the Department to prepare its roadmap for the future.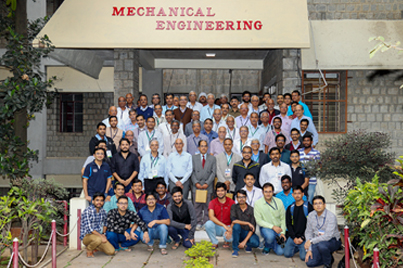 Open Day stall at ME quadrangle
Through informative posters, live demonstrations, informative videos and animations, the respective labs take keen interest to showcase science and engineering in an uncomplicated and enjoyable manner. In addition, the public is encouraged to participate in various competitions and events that are organized in order to create a sense of appreciation and wonder for the myriad aspects of mechanical engineering.