The students and faculty of the Department enthusiastically participate in the annual Open Day – a pan-institute event where IISc opens its gates to the general public to experience the culture of science and research. It is typically scheduled in the first week of March. On this day, the Department unveils its labs and research activities to one and all for accessible learning. This popular event is attende d by thousands of school students from across and outside the city, as well as lecturers and teachers from academic institutions and professionals from the Industry.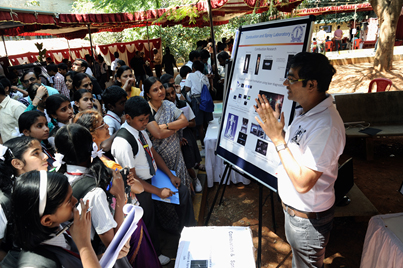 Open Day stall at ME quadrangle
Through informative posters, live demonstrations, informative videos and animations, the respective labs take keen interest to showcase science and engineering in an uncomplicated and enjoyable manner. In addition, the public is encouraged to participate in various competitions and events that are organized in order to create a sense of appreciation and wonder for the myriad aspects of mechanical engineering.