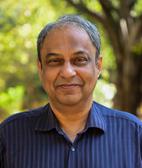 Ashitava Ghosal
Professor
PhD, Stanford University, California, 1986
MS, University of Florida at Gainesville, Florida, 1982
BTech, IIT Kanpur, 1980
Research Interests
Kinematics, dynamics, control and design of robots and other computer-controlled mechanical systems, Theoretical and numerical investigations of non-linear dynamical systems, Kinematics of parallel mechanisms and manipulators
Design of mechanical systems,
Biomedical devices, CAD/CAM
Teaching
ME 240 Dynamics and Control of Mechanical Systems
ME 246 Introduction to Robotics
PD 229 Computer Aided Product Design
Selected Recent Publications
Shyam, R. A., Acharya, M., & Ghosal, A. (2017). A heliostat based on a three degree-of-freedom parallel manipulator. Solar Energy, 157, 672-686.
Chaudhury, A. N., & Ghosal, A. (2017). Optimum design of multi-degree-of-freedom closed-loop mechanisms and parallel manipulators for a prescribed workspace using monte carlo method. Mechanism and Machine Theory, 118, 115-138.
Menon, M. S., Ravi, V. C., & Ghosal, A. (2017). Trajectory planning and obstacle avoidance for hyper-redundant serial robots. Journal of Mechanisms and Robotics, 9(4), 041010.
Reddy, B. S., & Ghosal, A. (2017). Chaotic motion in a flexible rotating beam and synchronization. Journal of Computational and Nonlinear Dynamics, 12(4), 044505.
Ahmad, N., Ranganath, R., & Ghosal, A. (2017). Modeling and experimental study of a honeycomb beam filled with damping particles. Journal of Sound and Vibration, 391, 20-34.
Sponsored Projects
Onboard passive micro vibration isolation in spacecraft, STC, 2017-2020
Additional Information
Elected Member of IFToMM Executive Committee (2016-2019)
Elected Fellow of Indian National of Engineering (2010)
Associate Editor: Mechanism and Machine Theory, ASME Journal of Mechanisms and Robotics, Mechanics Based Design of Structures and Machines
Robotics: Fundamental Concepts and Analysis, Oxford University Press (2006)