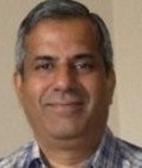 B. Gurumoorthy
Professor
PhD, Carnegie Mellon University, 1987
ME, Carnegie Mellon University, 1984
BTech, IIT Madras, 1982

Research Interests
Computer-aided design
Digital manufacturing
Computational metrology
Product design
Teaching
ME 295 Geometric Modelling for CAD
PD 202  Introduction to Solid Mechanics and Fluid Mechanics
PD 212 CAD
PD 229 Computer-Aided Product Design
Selected Recent Publications
Sharma, G. K., & Gurumoorthy, B. (2017). A hybrid approach to define and represent material distribution in heterogeneous objects.Computer-Aided Design and Applications, 14(1), 70-82.
Madhusudanan, N., Chakrabarti, A., & Gurumoorthy, B. (2016). Discourse analysis based segregation of relevant document segments for knowledge acquisition.AI EDAM, 30(4), 446-465.
Adhikary, N., & Gurumoorthy, B. (2017). Direct global editing of STL mesh model for product design and rapid prototyping. Rapid Prototyping Journal, 23(4), 781-795.
Sponsored Projects
Intelligent Design Engineering System, Faurecia PI, April 2018-March 2019 (INR 50 lakhs p.a.)
Additional Information
Vice-Chair, Asia-Pacific, IFIP WG 5.1 on Global Product Development for the Whole Life Cycle, 2009 – Present
Regional Editor: International Journal of Product Life Cycle Management; Editor: Journal of Computational Design and Engineering, ASME Journal of Computing and Information Science in Engineering; Editorial Board: International Journal of CAD and Applications