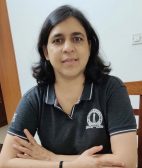 Namrata Gundiah
Professor
PhD, University of California, Berkeley, California, 2004
MS, University of California, Berkeley, California, 2000
MSc, University of Pune, India, 1994
BSc, University of Pune, India, 1992

Research Interests
Nonlinear tissue mechanics
Insect biomaterials
Failure in soft matter
Mechanobiology, adhesion & migration of cells
Growth and remodeling
Teaching
ME 228 Materials and Structure Property Relationships
ME 251 Biomechanics
ME 241 Experimental Engineering
Selected Recent Publications
Kulkarni, A. H., Ghosh, P., Seetharaman, A., Kondaiah, P., & Gundiah, N. (2018). Traction cytometry: regularization in the Fourier approach and comparisons with finite element method. Soft matter.
Rathod, M. L., Pareek, N., Agrawal, S., Jaddivada, S., Lee, D. W., & Gundiah, N. (2017). Engineered ridge and micropillar array detectors to quantify the directional migration of fibroblasts.RSC Advances, 7(81), 51436-51443.
Kollimada, S. A., Kulkarni, A. H., Ravan, A., & Gundiah, N. (2016). Advancing edge speeds of epithelial monolayers depend on their initial confining geometry. PloS one, 11(4), e0153471.
Babu, A. R., Byju, A. G., & Gundiah, N. (2015). Biomechanical properties of human ascending thoracic aortic dissections.Journal of biomechanical engineering, 137(8), 081013.
Kundanati, L., & Gundiah, N. (2014). Biomechanics of substrate boring by fig wasps. Journal of Experimental Biology, 217(11), 1946-1954.
Sponsored Projects
Mechanobiology of cell adhesion probed using a custom fluid shear device', Department of Biotechnology, India, 2018.
'Mechanobiology of the urinary bladder: Mathematical models and devices to manage dysfunction', 2018-21.
Coffee wood stem borers: Biomechanics of boring and development of minimally invasive detective techniques, Central Coffee Research Institute, 2014-15.