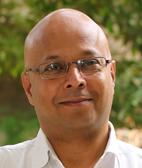 Satish V. Kailas
Professor
PhD, IISc, Bangalore, 1994
ME, IISc, Bangalore, 1989
BTech, Govt. Engineering College, Trichur, 1987

Research Interests
Friction studies during metal forming/cutting, Friction stir welding
Design and development of special purpose machines
Teaching
ME 228 Materials and Structure Property Correlation
PD 205 Materials Manufacturing and Design
Selected Recent Publications
Dixit, S., Mahata, A., Mahapatra, D. R., Kailas, S. V., & Chattopadhyay, K. (2018). Multi-layer graphene reinforced aluminum–Manufacturing of high strength composite by friction stir alloying.Composites Part B: Engineering, 136, 63-71.
Kumar, A., Yadav, D., Perugu, C. S., & Kailas, S. V. (2017). Influence of particulate reinforcement on microstructure evolution and tensile properties of in-situ polymer derived MMC by friction stir processing.Materials & Design, 113, 99-108.
Madhu, H. C., & Kailas, S. V. (2018). Fabrication of localised aluminium foam by a novel polymeric blowing agent.Materials Characterization, 142, 340-351.
Kar, A., Suwas, S., & Kailas, S. V. (2018). Two-pass friction stir welding of aluminum alloy to titanium alloy: A simultaneous improvement in mechanical properties. Materials Science and Engineering: A, 733, 199-210.
​​Sponsored Projects
Mechanical Joining of Al, steels and polymers, CAR-DST-TDB
Factors influencing friction in friction drives, Nissan, Japan
Additional Information
Editorial Board Member/ Associate Editor of:

ASME Journal of Tribology
STLE Tribology Transactions
Wear
Friction
Tribology Online

Chairman of the Interface committee, IISc
Chairman of Students Affairs Committee, IISc