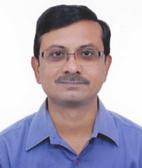 M.S. Bobji
Professor
PhD, Indian Institute of Science, Bangalore, 1999
MTech, IIT Madras, 1992
BE, Thiagarajar College of Engineering., Madurai, 1989
Research Interests
Small-scale materials properties, Solid mechanics
Nanomechanics, Nanoparticles in tribology
Surface microtexturing, Designing surfaces for drag reduction
Teaching
ME 255 Fundamentals of Tribology
ME 273 Solid and Fluid Phenomena at small scales
Selected Recent Publications
Dilip, D., Kumar, S. V., Bobji, M. S., & Govardhan, R. N. (2018). Sustained drag reduction and thermo-hydraulic performance enhancement in textured hydrophobic microchannels. International Journal of Heat and Mass Transfer, 119, 551-563.
Jayadeep, U. B., & Bobji, M. S. (2017). Energy loss due to adhesion during the impact of elastic spheres. Procedia engineering, 173, 238-243.
Yadav, A., Muthukumar, M., & Bobji, M. S. (2016). Porous alumina based ordered nanocomposite coating for wear resistance. Materials Research Express, 3(8), 085021.
Devi, A. L., Nongthomba, U., & Bobji, M. S. (2016). Quantitative characterization of adhesion and stiffness of corneal lens of Drosophila melanogaster using atomic force microscopy.Journal of the Mechanical Behavior of Biomedical Materials, 53, 161-173.
Dilip, D., Jha, N. K., Govardhan, R. N., & Bobji, M. S. (2014). Controlling air solubility to maintain "Cassie" state for sustained drag reduction. Colloids and Surfaces A: Physicochemical and Engineering Aspects, 459, 217-224.
Shrikanth, V., & Bobji, M. S. (2014). A non-resonant mass sensor to eliminate the "missing mass" effect during mass measurement of biological materials. Review of Scientific Instruments, 85(10), 105006.
Sponsored Projects
In-situ Raman spectroscopy for studying molecular deformation in boundary lubrication, 2017-20, Cost: 54.3 lakhs DST-SERB
Energy efficient polyhouse and aeroponic system for mini-tuber production of tissue cultured potato, 2017-20, 348 lakhs, ICAR
Simulation Environment with Active Feedback for Epidural Procedures, , 2013 -2015, 125, Robert Bosch Centre for Cyber Physical Systems