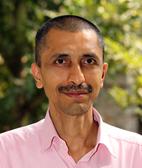 C.S. Jog
Professor
PhD, University of Illinois, Urbana-Champaign, 1994
MTech/BTech (Dual Degree), IIT Bombay, 1988

Research Interests
Solid mechanics
Continuum mechanics
Finite element methods
Teaching
ME 243 Continuum Mechanics
ME 261 Engineering Mathematics
ME 257 Finite Element Method
ME 242 Solid Mechanics
UE 204 Elements of Solid Mechanics
Selected Recent Publications
Piyush, P., & Jayanth, G. R. (2016). An out-of-plane linear motion measurement system based on optical beam deflection.Measurement Science and Technology, 27(2), 025203.
Nandy, A., & Jog, C. S. (2018). A monolithic finite-element formulation for magnetohydrodynamics.Sādhanā, 43(9), 151.
Jog, C. S., & Potghan, N. (2017). A Finite Element Method for Incompressible Fluid Flow in a Noninertial Frame of Reference and a Numerical Study of Circular Couette Flow with Varying Angular Speed.Fluids, 2(4), 53.
Agrawal, M., & Jog, C. S. (2017). Monolithic formulation of electromechanical systems within the context of hybrid finite elements.Computational Mechanics, 59(3), 443-457.
​Books
Foundations and Applications of Mechanics: Vol. I: Continuum Mechanics
Foundations and Applications of Mechanics: Vol. II: Fluid Mechanics
Additional Information
Part of Computational Nanoengineering (CoNe) project for the development of MEMS software, which was integrated into finite element software package, NISA.
Project Name: Software development and Scientific Computing in Nanoengineering
National Programme on Micro and Smart Systems (NPMASS), 2009-2013
Total funding: INR 411 lakhs